Post by desotogal on Apr 7, 2016 16:02:33 GMT -8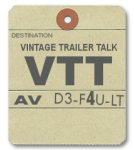 lh5.googleusercontent.com/-F02ThAi_gfk/TYuR_KB5JhI/AAAAAAAAA-E/DnqjPn8Ydm8/s1600/1aaafirst.jpg
Here is the thread to Tallulah Belle a 1960 Shasta Deluxe, it also like the 1959, does not have a window in the door...go figure...very confusing, I believe your door has been "upgraded/modified" as possibly the front rock guard may have been, since to the best of my knowledge, neither the 1959 nor 1960 Deluxe had a window in the door, along with your current door handle is not circa 1959 or 1960 Shasta Deluxe (imho). Whatever, I really like your Deluxe!
shastadeluxe.com/
Finally as Lagniappe I am tossing out this thread for fun viewing...it starts out with a photo of a gorgeous Spartan, but if you scroll down far enough you will see a compilation of Shasta Ads (from our now deceased beloved VSTF! waa, waa!!) that is a good quick reference of their canned ham models...
vintageshastacamper.com/category/uncategorized/
Hi vintagebruce!
Originally we we purchased this camper with the understanding that it was a 1958 model. That's what the craigslist advertisement stated, anyway. The paperwork, however, identifies it as a 1960. It's one of several issues that the seller was not upfront about. It was supposed to have a title. When we drove the 3,000 miles to see it, there just a bill of sale from the PO, and the start of paperwork to acquire one (in lieu of title, etc). The trailer was also advertised as a 16' when, in fact, it is a 19'.
The door is not original. The curb side rear window does not appear to be original either. You can see where the screw holes have been caulked, and it has a "double brow". There are other modifications made to this trailer. We haven't had weather decent enough to really explore or assess the trailer beyond when we initially purchased it. I'll contact Ross and see what his information says. Thank you for the info!
ps. I am familiar with Tallulah Belle, and have saved a link to the owners blog as inspiration. She's what helped us decide that a Deluxe 19' model was for us. Originally, we had been searching for a 16' and shared a similar heartbreak as Tallulah's owners did with their first potential purchase deal falling apart. I suppose we were meant to have this one instead.