Post by vikx on Oct 24, 2013 21:23:01 GMT -8
From SOUP:
On a serious note;
I want to take a moment to discuss "Grease fittings on axle bearings dust caps" or sometimes referred to as bearing buddies.
DON'T BUY OR USE THEM, unless you are dipping your axle under water all the time.
They are designed for boat trailers that the axle bearings go under water frequently.
You put the grease in with a fitting on the outside of the cap, without removing the cap. The grease goes into the cap under an inner cap with a spring. When full the inner spring/cap puts pressure on the grease pack for positive grease pressure to keep water from coming in.
"OH my soup, that sounds so easy and cool!"
Well it is if you have a boat trailer!!
These are not needed on campers unless amphibious.
Here's the rub...
Most people fill to max, (not following mfg's directions and specs) that causes too much positive pressure and "BLOWS OUT" the grease seal in the back.
Then as owner notices his buddies needing more grease, he or she puts the lube to her!! Again and again and again.
Well, where the heck do ya think all that grease goes too??!!
These seals were the worst blow out I've ever seen in my whole life. (Let me tell you I have actually done hundreds of bearing jobs in the last half century.) Fittings on the dust caps usually only get the inner rubber part of the seal blown backwards and then the rubber part gets "rubbed out" for the on going grease leak, ruining your brake pads!
This set at one time had so much pressure it blew the entire seal out, steel ring and all. (Usually when you remove a brake drum, the back bearing and grease seal stay in the drum and you have to forcefully remove the seal with a grease seal removing tool they are in so tight.) On this set (both sides) the grease seals and back bearings remained on the axle spindle when drum was removed!!! So back bearings and grease seals were free floating and one of the seals got bent up/damaged from free spinning!!
I purchased new seals yesterday and ordered new dust caps WITHOUT grease fittings.
These were designed so you would HAVE to take them apart to lube them. That way bearings get inspected every so often. With caps with fittings, you "THINK" you don't have to take apart and clean any more, but DREAM ON cause dreams are free!! But new bearings, races, seals, and axles aren't!!!
I will be cleaning off all the brake systems, drums, spindles, bearings today to inspect and see how many parts are damaged. Good thing this is the camper that rode on my truck deck for the trip home. (first one ever on the deck) I didn't tow it due to having a compact being towed on the same trip. Thank goodness I was lucky enough to choose this one to ride on top of the deck instead of towing. It could have been ugly. (Might have been a real WIPEOUT!)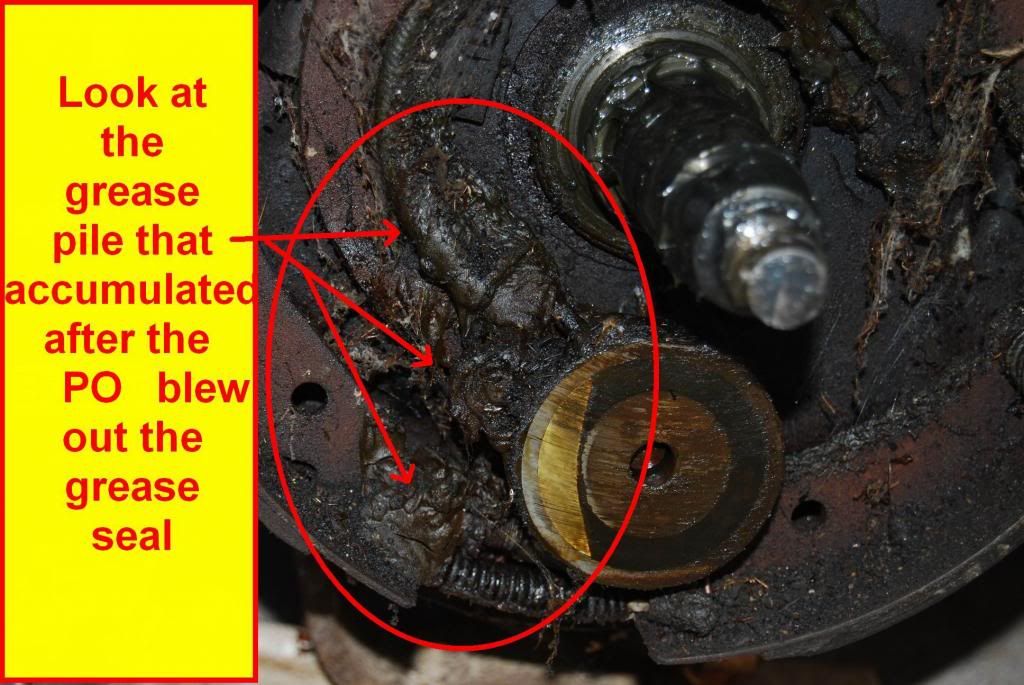 To give you a real idea as to how much grease is solidly packed in the brakes, here is a pic of a clean set of brakes without all the grease build up. These were solid grease packed behind drum surface!!!!!Amazing. Never seen that before!! LOL It's days like this you gotta live for. Always good when you get to see something new, even if it's bad. Bearings didn't look too bad so hopefully just need to clean and repack those.
[/quote]