Post by ladywendolyn on Jul 8, 2017 9:16:04 GMT -8
Just want to share my thoughts on what I have chosen for an awning and why I think this is such a fantastic deal.
After doing a ton of research over the last two years, and receiving about 25 samples of awning fabric from wholesalers around the world, I have ended up ordering a replacement awing kit for my trailer awnings from eBay, made by ALEKO. The reason I chose the ALEKO replacement awning over the many awning fabrics that I could find include the following thoughts:
#1 The price. I was able to pick up 2 of these 10x12 awning kits for $68.00 each. Total $136.00 for more than enough fabric to make a 10'x9' main awning with a nice 12" drop decorative edge/flap, an awning for my front window guard, and eventual rear window. Plus enough left over to trim up a canvas tent house in matching colour if I ever decide to do that. I am receiving 240 square feet of fabric for $136.00
Compare this to the fact that I was looking at over $500 for sunbrella fabric to do the main awning and front only.
#2 The pattern. I kept thinking that I would find a great vintage pattern in one of the high end sunbrella type fabrics. Strangely even after 25 samples, this pattern and color is among the best I have found.
#3 No seams. Most people don't think about this, but if you buy an awning from a "vintage awning company" (there are a few good ones online), not only will you pay quite a lot for an awning, but there will be three seamed panels in your main awning. Awning fabric only comes 54" wide, or the odd time 60" wide. No seams mean, no places to leak or gather dirt.
#4 Waterproof and UV proof type of material. A lot of the awning fabrics that are being sold are not waterproof (unless you buy sunbrella) and they are only rated for 500 hours of sunlight. (We camp for much longer than that every year). You can add a UV spray which will help, but this ALEKO awning is made for long term use on a patio and is not only waterproof it is UV proof. It has more of a rubberized effect than a "fabric" effect to it in the weave, but I believe that will be an advantage.
I am sharing this information because I have purchased my two awnings off of eBay while they can still be had for such a low price. ALEKO awnings has discontinued production and after contacting the company, they told me that they have no stock left of these awnings and don't know if they will be making them again. But you can still get them on eBay from a few sellers. Search "ALEKO Awning" and sort by price. Choose one with free shipping. I was able to get free shipping to Canada which is a huge bonus, given the cost to ship two awnings. They have red, green, yellow, and blue striped ones, and some burgundy, tan and green plain ones. You can simply sew on the front edge that comes with it. (I will post photo's of my more detailed awnings once I get them done. You will need to add three gromets and a piece of sew on, awning rail trim which is available for a few dollars at "Sailrite.com".
Don't miss out on this great deal before they are gone.
www.ebay.com/sch/i.html?_odkw=ALEKO+awning&_osacat=0&_from=R40&_trksid=p2045573.m570.l1313.TR0.TRC0.H0.XALEKO+replacement+awning.TRS2&_nkw=ALEKO+replacement+awning&_sacat=0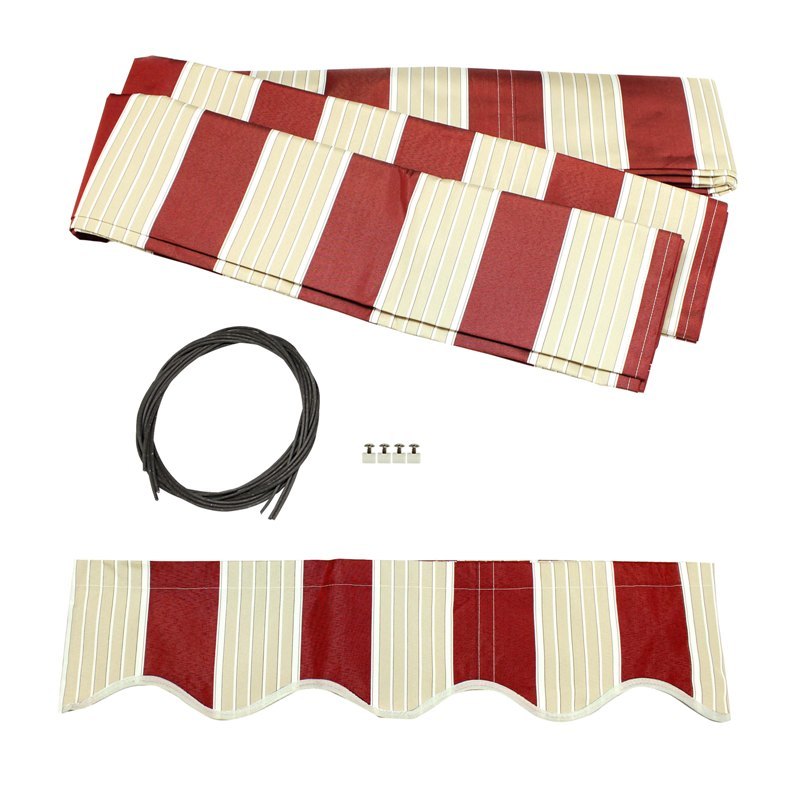 Save
Save