Post by John Palmer on May 1, 2015 7:11:10 GMT -8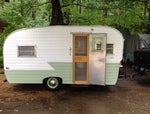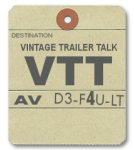 I give you the color, the paint code, the brand of paint, and what do you do......GO TO ACE HARDWARE, and talk to a youngster about fifty year old automotive paint. You need to go to a REAL automotive paint store, and they will have no problem mixing you a couple of quarts to spray half a trailer. PPG and Sherwin Williams have retail house paint stores, and industrial/automotive paint dealers, they carry different types of paint for different applications. Are you going to waste 50% of your paint, why would you buy a gallon when your going to shoot two colors? That paint is not going to cost over a couple of hundred bucks, with hardener and reducer included. The $900 a gallon is B.S., for a single stage, non metallic, non candy color. I would like to know what the exact PPG paint was, that was quoted at $900/Gal.? The most expensive PPG paint I ever purchased was a "water borne" Base coat/Clear coat in Ruby Red @ $500/gal. Red's are the most expensive color (by about 10%) due to the red tint pigment cost.
$900 was for the complete "system". They said for their PPG auto paint I would need an etching coat, primer coat and single stage paint with hardener. If I don't follow their "System" they strongly advise not using their paint.
As far as making a simple project complicated is concerned, the first time you do anything it's complicated. Figuring it out is what makes the project fun.
There is nothing more boring than an easy project.
Enjoy your day.
IMO, By giving you the high $900 price, they were just saying.........go away and don't bother us!
I have never used etching primer on aluminum, or has it been "recommended" to me by my "very experienced" paint dealer. It is a "old school" technique, the epoxy primers of today are superior, and they serve as a sealer under the single stage coats to prevent "bleed through". Two part epoxy primer "over" any repairs, then sand and shoot the single stage. Do not lay it on heavy, first a very thin tack coat, then a color coat, then a final gloss coat. Pay attention to the MDS recoat times, it's usually about 15 minutes to several hours maximum. If you get "too much" orange peal, or bugs in the final coat, just color sand them out, then compound buff after a few weeks.